Review by Dr. Selene Parekh
Case Presentation:
A 49-year-old, 145-pound female presented in the clinic as a new patient complaining of right foot pain. She rated her pain a 5/10, saying the symptoms are aggravated by activities and relieved by rest. She described the sensation of walking on a marble underneath her 3rd and 4th toes. She also complained of a deformity of the 1st toe with associated symptoms in the 1st and 2nd toes. Her pain was moderate and worsening over time. The pain was present for several years, progressively worsening over time. The patient denies any injury at onset. The initial assessment was that the patient was stable until she decided to undergo surgery.
Surgical correction was chosen with planned ankle block, Akin osteotomy, MCL repair, minimally invasive Weil osteotomy of the 2nd toe, IPJ fusion of the second toe, EDLL of the second toe, FDL transfer, Weil osteotomy of the third toe, plantar plate repair on the third toe and neuroma resection on the 3rd webspace. The OSSIOfiber Trimmable Nail size 2.4x30mm was utilized as adjunct fixation in conjunction with the plate/screw fixation construct of the bunion treatment.
Why was OSSIOfiber® the best choice for this patient?
I used the bio-integrative OSSIOfiber® Trimmable Nail to provide initial stabilization of the osteotomy.
Pre-Op Planning
Traditional X-ray planning was performed and shown in the following images.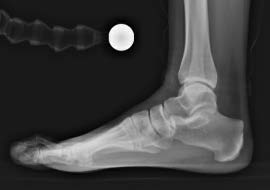 Surgical Technique with OSSIOfiber® Trimmable Nail
The 2.4x30mm OSSIOfiber® Trimmable Fixation Nail and sterile, disposable instrumentation were utilized for adjunct fixation for the osteotomy.
Dorsal incision was made over the EHL and taken down to bone
Subperiosteal elevation was performed
1st TMT joint was identified, and osteotomy marked 1 – 1.5cm distal to the joint
Proximal crescenteric osteotomy was performed
Osteotomy was displaced to correct bunion
Stable, provisional fixation was achieved with the OSSIOfiber

®

Trimmable Fixation Nail implanted 1.5cm distal to the osteotomy site and was used in conjunction with a plate/screw construct
3.0 silk sutures were used for closing
Note: OSSIOfiber® material technology has similar radiodensity to cortical bone and is artifact-free on X-ray/CT and MRI safe.
Post-Op Protocol
Protocol included the patient bearing weight as tolerated in a post-op shoe with a taped bunion dressing. The wooden post-op shoe is used for 8 weeks and dressing changed every 2 weeks. There were no deviances from my usual post-op protocol.
Summary
The OSSIOfiber® Trimmable Fixation Nail was a great provisional fixation for the osteotomy. It allowed for maintenance of the osteotomy while placing the hardware as well as promising stability post-operatively.
DOC0001338 Rev 01 09/2020
Refer to the product instructions for use for warnings, precautions, indications, contraindications, and complete technique. Medical professionals must use their professional judgment in making any final determinations for product usage and technique.
This case study was created in collaboration with Dr. Parekh and was developed from their expertise, training, and professional opinion in addition to their knowledge of the OSSIOfiber® Trimmable Nail Fixation. Results from case studies are not predictive of results in other cases. Results may vary.